Meet the lovely couple, Luise and David who is behind Green Kitchen Stories and this year's Christmas Arc Dining Table. With their passion for making vegetarian home cooking attractive, Green Kitchen Stories has built an impressive platform while creating family of five. We have had the pleasure to invite Luise to the table to talk about their inspiration and traditions – while creating a beautiful Christmas feast, of course. 
---
---
Share a few words about your family Christmas traditions?
For many years we travelled and celebrated Christmas at a beach restaurant. But as our family has grown, we have for the past years celebrated in the archipelago outside Stockholm or in the north of Copenhagen. We have always cherished the traditions of both countries. We celebrate with the Swedish Christmas lunch buffet and the Danish rice pudding with the hidden almond for dessert. We dance around the Christmas tree and open the presents at the end. An evening walk in the snow or a winter dip in the ocean followed by family sauna finishes a perfect day.
If anyone, you know how to create a delicious feast – share a few words of what makes the joy around the dining table?  
Most of us have special memories of family dinners, breakfast with good friends and home cooked meals with loved ones for bringing people together. There is really nothing like food shared around a table with loved ones that connects us together. For holiday gatherings we typically aim for a hot main course with lots of different side dishes, that way everyone around the table can pick their favorites.
---
---
---
What inspired you to share exactly these Christmas recipes with our community?  
This Christmas inspired brunch table is created with some of this season's amazing winter produce, like red cabbage, endives, and winter fruit. It is also a collection of our most loved holiday recipes that we serve for friends and family during December. 

The delicious Swedish Lucia saffron buns are a classic Swedish traditional Christmas bun, which is hugely popular in Sweden during the holiday season.  

Lingonberry smoothie bowls is a refreshing and nourishing addition to other traditional Christmas sweets made from frozen lingonberries and sprinkled with snow-like coconut.  

The red cabbage salad with blood orange & pomegranate is a crunchy salad, that we make as a fresh and simple side salad that everyone loves. It has a stunning colour and is very quick and easy to make.  

The Holiday Endive & Fennel Salad is a new 2022 addition to our Christmas favorites. It is a refreshing and crunchy endive & fennel salad, served on a bed of lemon yoghurt topped with crispy buckwheat and sweet apple slices or pomegranate. If you're lucky you can find dark red or bright pink endives and that will for sure make this salad even more Christmas-like.
---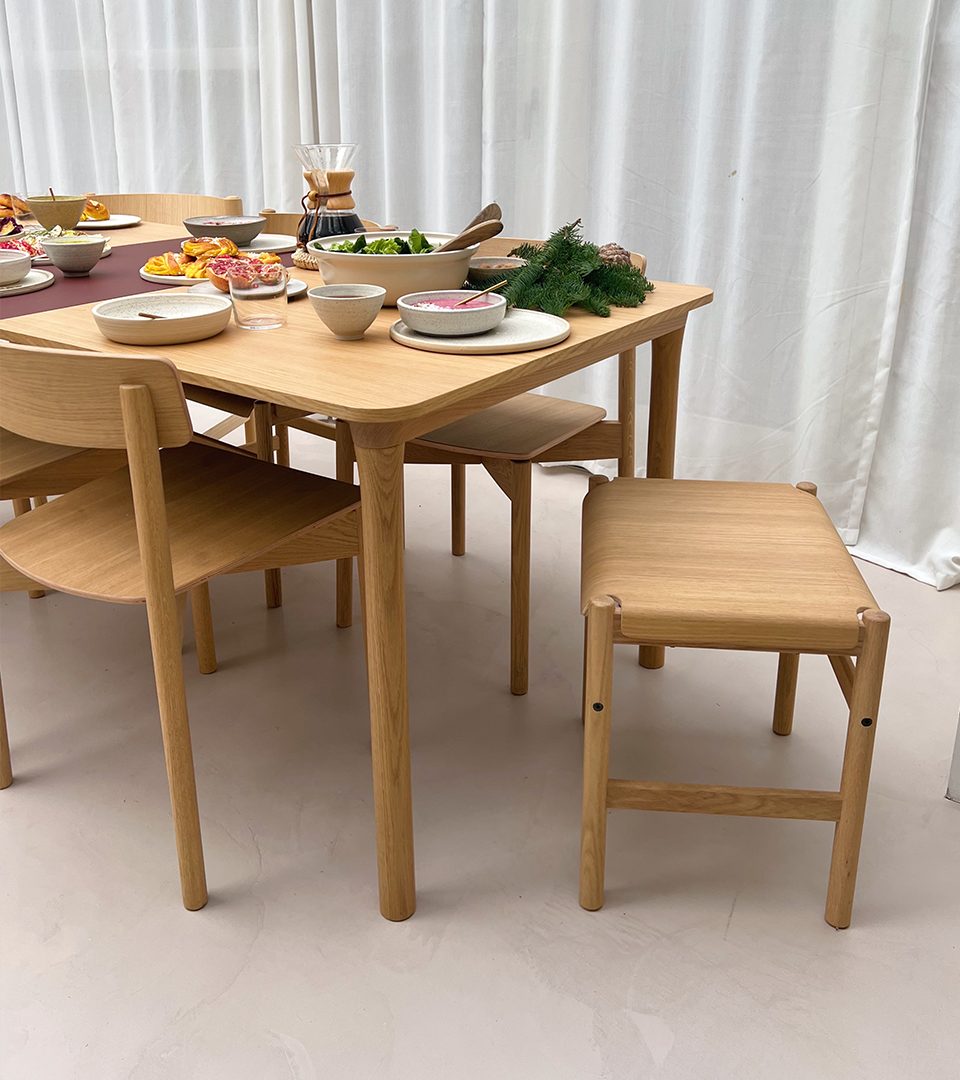 ---
At TAKT we have always said; "a house is physical, but home is a feeling". How does that translate to you? 
Our home is a feeling of constant grow. It grows with our family. It grows with our work. It grows with our lives. It's a feeling. The kitchen is the heart of our home, it's where we gather to talk about the day, where we cook and eat together. We have tons of cookbooks; they make us feel at home. We have surrounded our home with natural materials, that make us feel closer to nature. Stone, marble, wooden floors, linen, wool and lots of sustainable handcrafted items. We love soft shapes, art and creativity. Our home has a warm colour palette that creates a calm and safe space. Our home is the base from where everything begins.
Where do you go and look for inspiration? 
Our inspiration comes in different shapes and forms and from many different sources and places. For us, it can be from a weekend farmers market in our neighborhood in Södermalm, with lots of colourful seasonal produce. It can also come from abstract art or simply from a poem. It can also come from traveling around the world, meeting new people. Or it can simply come from a design that speaks to our hearts.

________

See Luise's Christmas brunch recipes – created for TAKT by Green Kitchen Stories 
---