T10 Cross Table 120 is designed by Pearson Lloyd and transfers the Cross family design concept to the classic typology of the Danish dining table. It represents a simple and elegant form and practical construction. An excellent format as an elegant dining table for 4 to 6 people or as a desk for the home workplace.
SECURE PAYMENT
100% secured payment flow
---
Make it yours
We have curated a selection of materials and colours that all fit well together. The tabletop comes in three colour variations and in natural oak veneer, so you can make your table naturally blend in with your personal interior. 
The nano laminate tabletop is hardy and the matt surface is easy to clean. To extend the lifetime of the table, use a melamine sponge for maintenance and repair of small scratches.
In short: a more beautiful and user-friendly surface with longer life.
---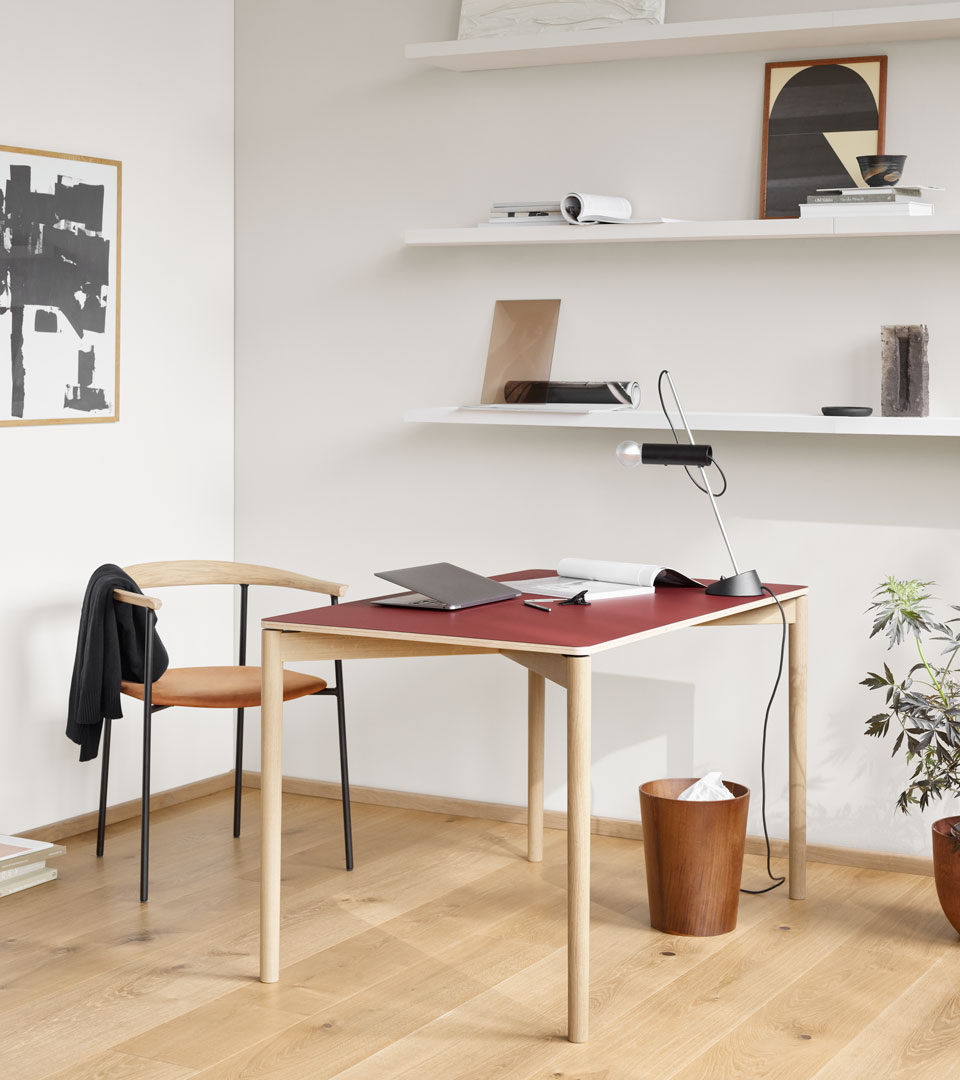 ---
---
What our customers say
Personal service
We went to the showroom on Sølvgade and met your friendly staff.
– Fredrik, May 2022
Sustainability in focus
The story behind, and sustainable production, and the feeling of no risk with the free return information.
– Gloria, April 2022
Good experience
The design is original, of good quality and sustainable, and the delivery was very quick. The experience was very good from end to end.
– Anonymous, February 2022
No compromises
I am extremely happy about both design and comfort. I am a furniture designer myself, and your product makes me happy.
– Simon, January 2022
---
---
Sustainability
Cross Table 120 is designed through TAKT's Eco System Design principles and are shipped component based as flat packs. We can pack 5 to 7 times more products in the same volume and therefore minimise CO2e emissions during transportation. Cross Table is eco-certified and produced using wood from sustainable forests and the full supply chain is certified. It is constructed for disassembly, meaning that all components are replaceable and worn parts can be replaced. Comes with a five-year warranty.

---
---
---
---
Craftsmanship
Designed to look great from any angle, Cross Table 120 presents enjoyable details with every view. It has clean lines and a comfortable design. Its name comes from its cross construction, which is the essence of the table.
---
The woodwork
The frame is made from solid oak: a durable material with a natural weight that lends authority to the design. Our products are FSC-certified. FSC-certified forests are given time to naturally regenerate, local wildlife is sustained and worker conditions are balanced. Oak has a characteristic structure which gives a beautiful texture and a familiar tangibility to the surface. The table is coated with a very thin and durable water based lacquer, that allows for easy cleaning while emphasising the delicate structure of the wood. 


---
---