T10 Cross Table 75 is designed by PearsonLloyd and transfers the Cross family design concept to the classic typology of the Danish dining table. With a suitable size of an elegant café table, it represents a simple and elegant form and a practical construction.
SECURE PAYMENT
100% secured payment flow
---
Cross Table 75
Cross Table 75 is the highly requested addition to the Cross collection. It represents a simple and elegant form, and a practical construction with a high understanding for craftsmanship and beauty in its execution. Several tables can be placed side by side if a larger table top is needed.  
---
Make it yours
We have curated a selection of materials and colours that all fit well together. The tabletop comes in three colour variations and in natural oak veneer, so you can make your table naturally blend in with your personal interior. 
The nano laminate tabletop is hardy and the matt surface is easy to clean. To extend the lifetime of the table, use a melamine sponge for maintenance and repair of small scratches.
In short: a more beautiful and user-friendly surface with longer life.
---
The Woodwork
The table top on Cross Table 75 comes in oak-veneer plywood with a frame made from solid oak: a durable material with a natural weight that lends authority to the design. Our products are FSC® certified. FSC® certified forrests are given time to naturally regenerate, local wildlife is sustained and worker conditions are balanced. Oak has a characteristic structure which gives a beautiful texture and a familiar tangibility to the surface. The table is coated with a very thin and durable water based lacquer, that allows for easy cleaning while emphasising the delicate structure of the wood. 

---

What our customers say
Very good
..absolutely love it. have had to buy all new furniture for the new place and the chairs are by far my favourite item! Thanks guys!
– Chris, September 10, 2020
Outstanding
A thing of total beauty and outstanding ergonomics. It gives me real pleasure every time I walk in the room!… we're considering buying more.
– David, November 06, 2019
    I'm a big fan of your brand.
I'm very happy with my chair; It met my expectations and then some. You can expect more purchases from me in the future. 🙂
– Michael, June 02, 2020
..very informative homepage
   In my opinion one of the most well designed chairs out there and especially within this price range. 
– Jeppe, November 07, 2019
---
---
---

Praise from the press
The Cross Chair is quickly becoming a contemporary classic. The slick, flat-pack work has been winning admirers worldwide since its launch in 2019.
---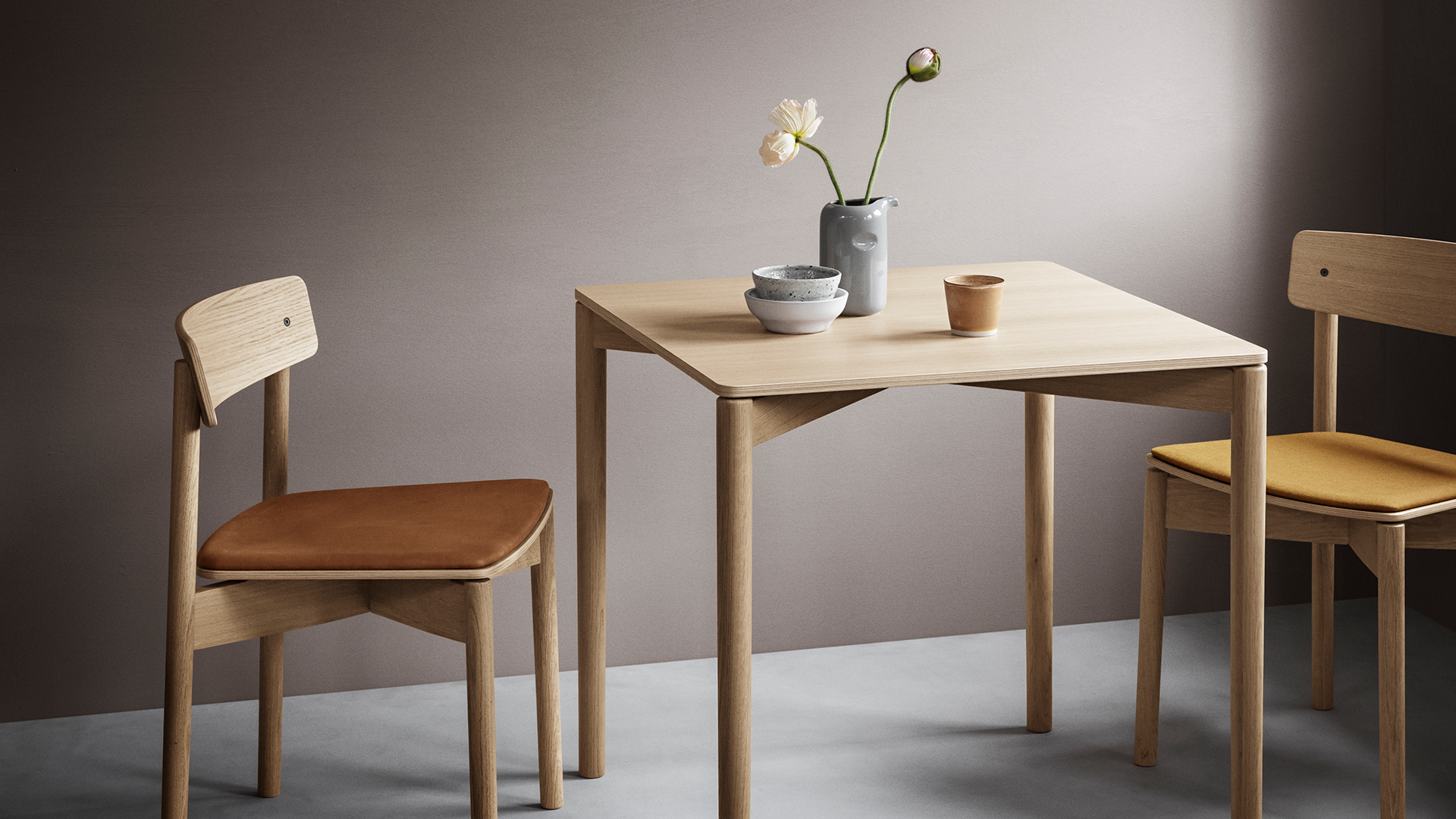 ---
Craftsmanship
Central to the Cross Table 75 design is the intuitive assembly process – it can be assembled in minutes and comfortably seats four, with minimal tools and almost no need for instructions.
It is available in one size (75cm x 75cm) seating four at dining height. The simple design makes it obvious to place several tables side by side if a larger table top is needed.
---
Sustainability
Cross Table is designed through TAKT's Eco System Design principles and are shipped component based as flat packs. We can pack 5 to 7 times more products in the same volume and therefore minimise CO2 emissions during transportation. Cross Table is eco-certified and produced using wood from sustainable forests and the full supply chain is certified. It is constructed for disassembly, meaning that all components are replaceable and worn parts can be replaced. Comes with a five-year warranty.

---
---
Transparency
We don't service an expensive network of physical retail stores. We work directly with the best furniture workshops. When we receive your order, we dispatch the product from our central warehouse in Denmark and ship it to you directly. That is how we can put more value into the product, sell it to you at a fair price and keep you informed along the way.
---
Price transparency


Price transparency
---
---
Try Cross Table in your home
We believe that the best place to experience furniture is in the surroundings where they will be used.
That's why we offer free shipping + free return.
---
---