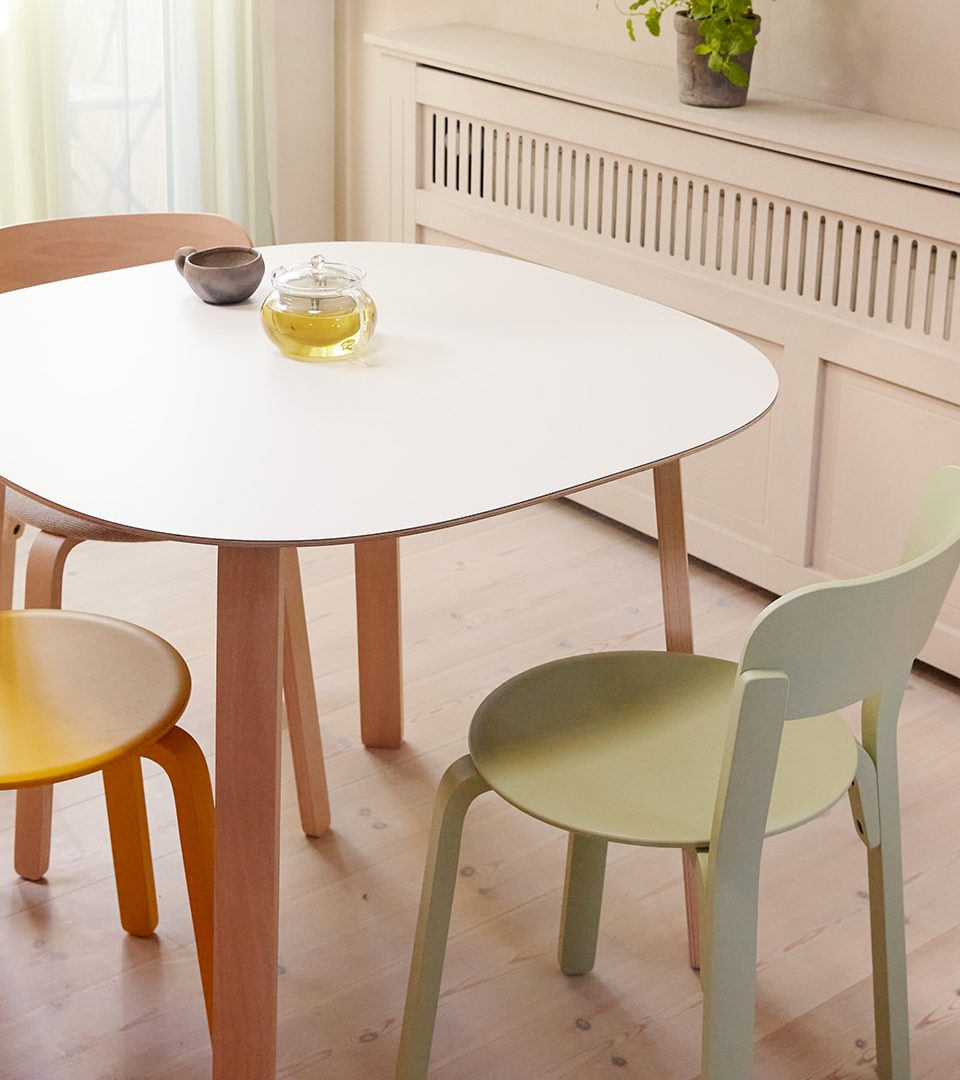 Familiar and natural form
Turn Table is sociable and colourful table for small spaces, which are increasingly the reality for urban customers. It presents familiar and natural form, and the round edges encourage conversation and circulation within compact living environments.
SECURE PAYMENT
100% secured payment flow
---
---
---
The superellipse shape
The spacious table with a diameter of 89 cm is perfect for gathering, dining, and creating memories. Turn Table's superellipse shape is neither round nor rectangle, but something in between. Its flowing lines invite movement and conversation without the rigid hierarchy of an angular setting. 
---
Make it yours
We have curated a selection of colours that all fit well together. The tabletop comes in three colour variations, Natural beech, Japan red and Black blue.
Legs come in three variations and all components are produced in FSC-certified natural beech veneer. Embrace the compact design that is crafted for a life with kids and family. The laminate tabletop is hardy and the matte surface is easy to clean, ensuring durability and convenience.
---
Turn Table is fun, sociable and colourful additions to the home that can be serviced to extend their life."

Nicolai de Gier
---
---
---
---
What our customers say
Personal service
We went to the showroom on Sølvgade and met your friendly staff.
– Fredrik, May 2022
Sustainability in focus
The story behind, and sustainable production, and the feeling of no risk with the free return information.
– Gloria, April 2022
Good experience
The design is original, of good quality and sustainable, and the delivery was very quick. The experience was very good from end to end.
– Anonymous, February 2022
No compromises
I am extremely happy about both design and comfort. I am a furniture designer myself, and your product makes me happy.
– Simon, January 2022
---
Climate Footprint
---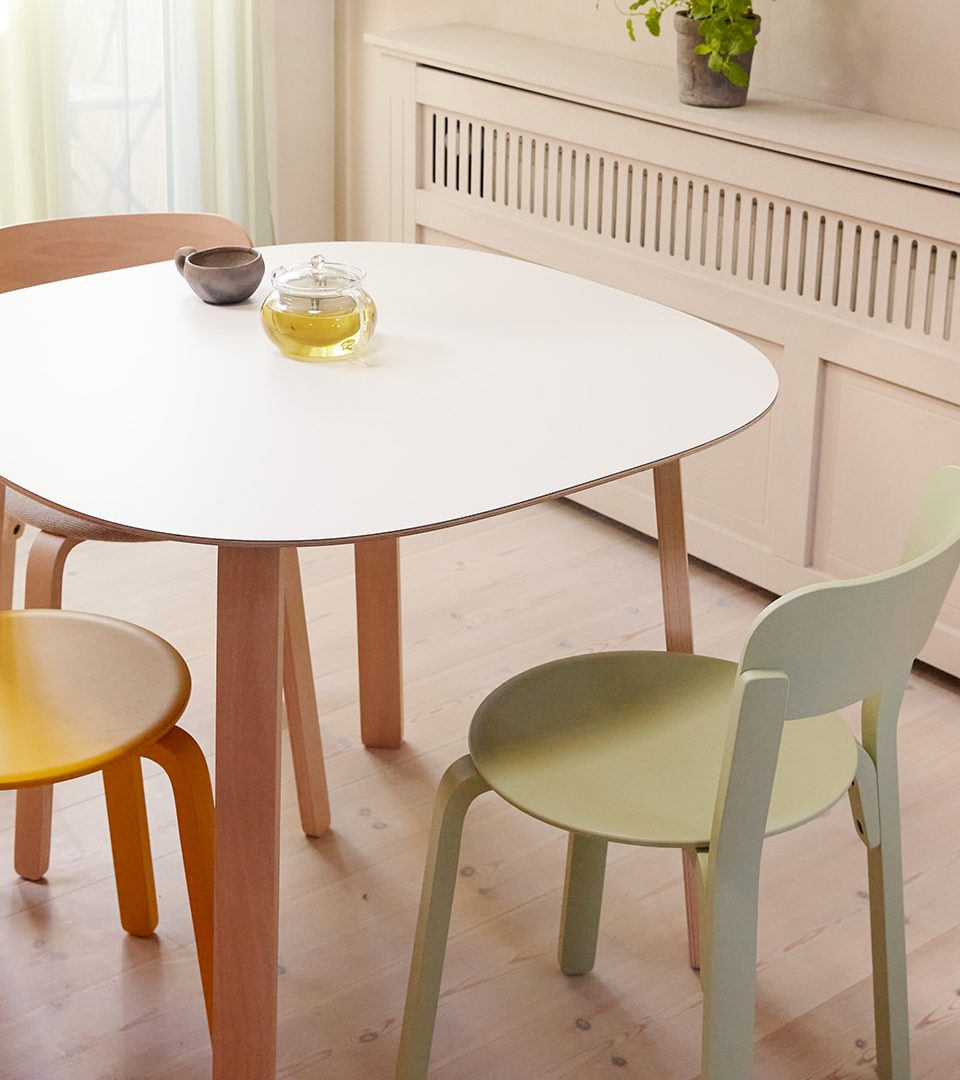 Sustainability
Turn Table is designed through TAKT's Eco System Design principles and are shipped component based as flat packs. We can pack 5 to 7 times more products in the same volume and therefore minimise CO2e emissions during transportation. Turn Table is eco-certified and produced using wood from sustainable forests and the full supply chain is certified. It is constructed for disassembly, meaning that all components are replaceable and worn parts can be replaced. Comes with a five-year warranty.
---
---
---
Craftsmanship
Central to Turn Table's design is the intuitive assembly process – it can be assembled in minutes and comfortably seats four, with minimal tools and almost no need for instructions.
It is available in one size (89 cm x 89 cm) seating four at dining height.
---
The woodwork
Turn Table comes in beech-veneer plywood. Our products are FSC®-certified. FSC®-certified forests are given time to naturally regenerate, local wildlife is sustained and worker conditions are balanced. Beech is sturdy and durable yet relatively flexible. Historically, beech was implemented for writing purposes and beech tablets were the medium of choice in the Northern European countries before paper was invented. The beech tree is still a common tree in Denmark and it is widely employed for objects such as furniture, toys, clogs, furniture, veneer, plywood and parquet floors.


---