T18 Arc Dining Table is designed by the Danish design duo Depping & Jørgensen. The table echoes and expands upon the design language of Arc Chair, notably at the meeting point of the tubular steel legs and the oak armrest – a joint mirrored in Arc Dining Table where the leg meets the tabletop.
SECURE PAYMENT
100% secured payment flow
---
The extendable hub of the home
Created to be a companion to one of TAKT's most beloved designs, Arc Chair, but compatible with many styles of dining chairs. Arc Dining Table by Depping & Jorgensen is an elegant and highly versatile addition to the household. It gives TAKT customers the opportunity to acquire the versatility and functionality of an extendable table at a price point they might expect of a fixed-size one.
---
Designed in response to changing needs
Arc Dining Table has been designed in response to the changing needs of the modern family home, in which the dining table serves as not just a place to eat, but as the social hub of the house, where all generations come together to work, dine, talk, play and connect. With the function of a dining table today often dictated by who needs to use it and when – from kids doing homework after school to big weekend meals with extra guests.
---
A sense of balance
Arc Dining Table is available with a fixed-size tabletop or with extension lengths of 158 to 250 cm, allowing the user to transform the table as the situation – and guest list – demands. Typically, extendable dining tables compromise their aesthetic integrity when extended. Arc Dining Table, in contrast, has been designed with the focus on maintaining a clear design expression at all sizes. Proportions have been carefully considered to achieve a sense of balance; the legs' considered position in each rounded corner makes transforming the table simple and intuitive, via an extension mechanism concealed by the oak stretchers.
---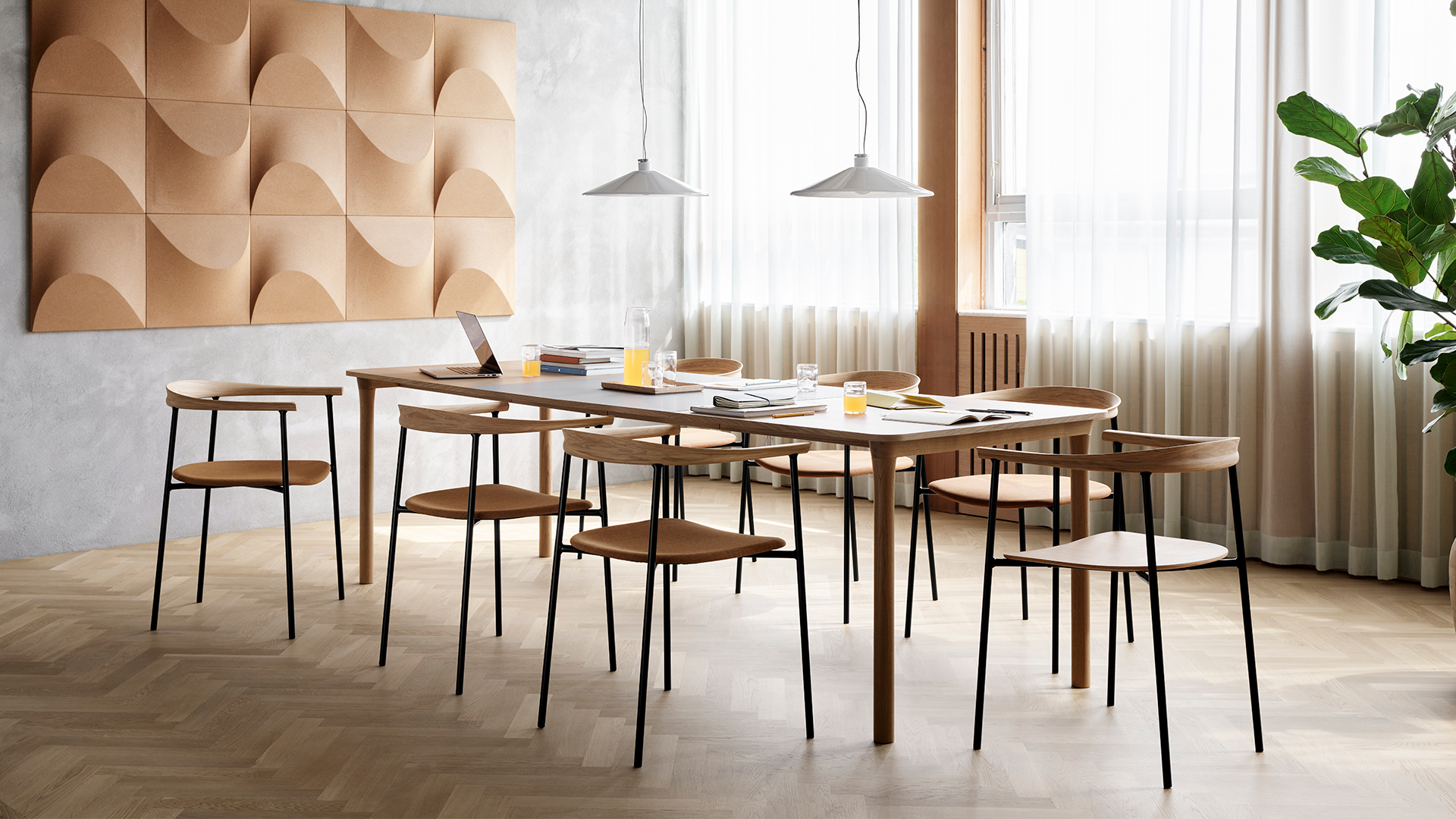 ---
---
What our customers say
Personal service
We went to the showroom on Sølvgade and met your friendly staff.
– Fredrik, May 2022
Sustainability in focus
The story behind, and sustainable production, and the feeling of no risk with the free return information.
– Gloria, April 2022
Good experience
The design is original, of good quality and sustainable, and the delivery was very quick. The experience was very good from end to end.
– Anonymous, February 2022
No compromises
I am extremely happy about both design and comfort. I am a furniture designer myself, and your product makes me happy.
– Simon, January 2022
---
---
Sustainability
Arc Dining Table is designed through TAKT's Eco System Design principles and are shipped component based as flat packs. We can pack 5 to 7 times more products in the same volume and therefore minimise CO2e emissions during transportation. Arc Dining Table is eco-certified and produced using wood from sustainable forests and other controlled material, just as the full supply chain is certified. It is constructed for disassembly, meaning that all components are replaceable and worn parts can be replaced. Comes with a five-year warranty.

---
---
---
---
The woodwork
Arc Dining Table is made of beech and oak, where both apron and legs are produced in solid wood. The tabletop comes in three colour variations and in natural oak veneer, so you can make your table naturally blend in with your personal interior.
Arc Dining Table is also made from FSC-certified wood and certified with the EU Ecolabel, and is designed to be easily separated into component materials for recycling, repair or repurposing. FSC-certified forests are given time to naturally regenerate, local wildlife is sustained and worker conditions are balanced. Oak has a characteristic structure which gives a beautiful texture and a familiar tangibility to the surface. The surface is treated with a water-based lacquer.


---
---