T16 Cross Bar Chair is designed by Pearson Lloyd with a deep respect for the Danish design tradition. The compact nature of the chair suits both kitchen counter and bar heights. The addition of the backrest also gives the user a sense of direction and comfort when in use.
SECURE PAYMENT
100% secured payment flow
---
Introducing Cross Bar Chair
The Cross Bar Chair embodies the Scandinavian design principles of craft, simplicity and elegance in a design that was circular from the start – sustainable to produce, made to last, easy and intuitive to assemble from flatpack, and properly repairable and recyclable. To create it, Pearson Lloyd took the innovation at the heart of the original design – the eponymous cross structure beneath the seat – and optimised it for bar-stool scale.
---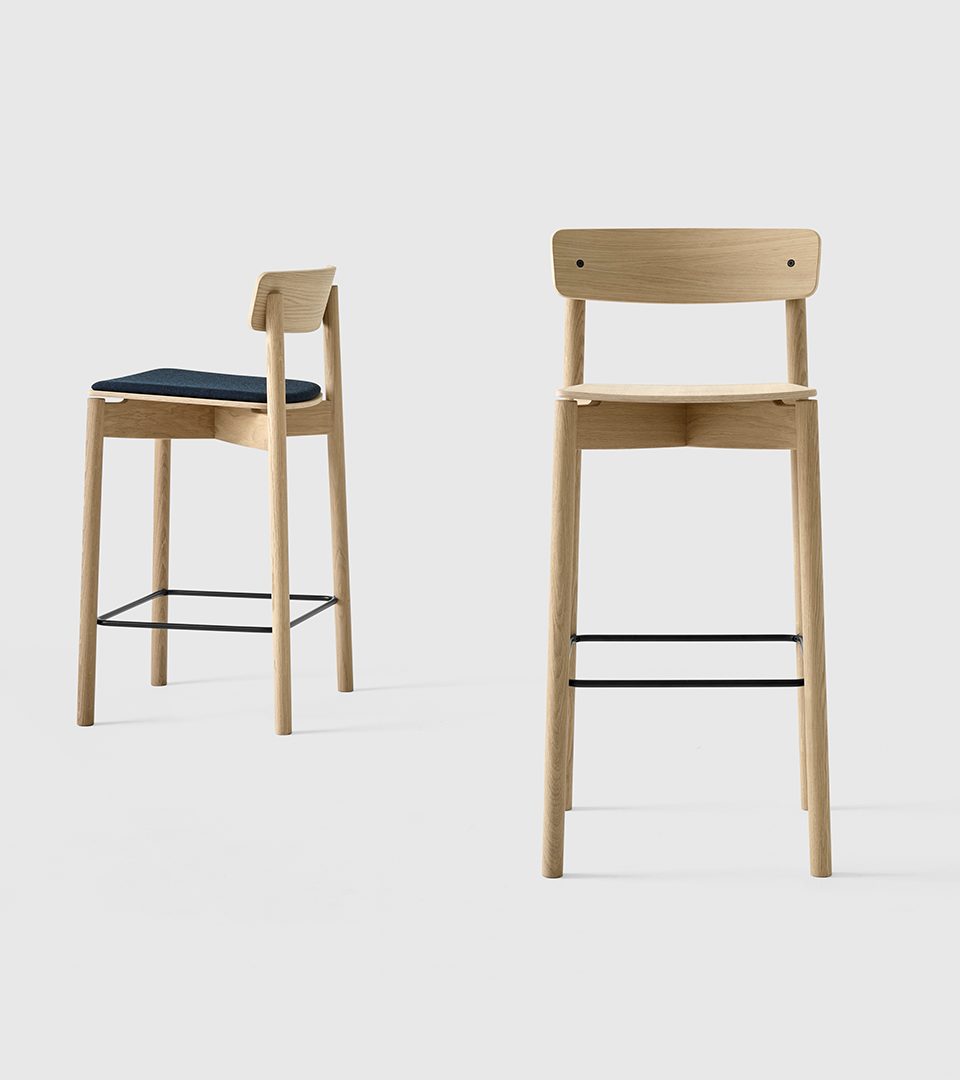 Choose from two different heights
Cross Bar Chair brings the timeless aesthetic of the Cross design into high seating areas as bars and countertops. The resultant design is available at two seat heights – 75 cm for bars and 65 cm for countertops. Both versions feature a footrest for comfort, a smaller seat and a smaller, lower backrest to accommodate the different way in which people sit on bar stools compared to dining or lounge chairs.
---
Made to match any interior
With three timber finishes – oiled oak, smoked oak and black-lacquered oak – and optional upholstery materials including cognac and black leather, and three textiles (sand grey, dark petrol and golden ochre), both versions of the chair can be adapted to suit interiors of different styles. This adaptability ensures the Cross Bar Chair is a welcome addition not only to hospitality settings, but also to workplaces and coworking spaces with high tables – as well as private homes. All fabrics are of course ecolabelled and our leathers have received the Nordic Swan Ecolabel.
---
---
---
What our customers say
Personal service
We went to the showroom on Sølvgade and met your friendly staff.
– Fredrik, May 2022
Sustainability in focus
The story behind, and sustainable production, and the feeling of no risk with the free return information.
– Gloria, April 2022
Good experience
The design is original, of good quality and sustainable, and the delivery was very quick. The experience was very good from end to end.
– Anonymous, February 2022
No compromises
I am extremely happy about both design and comfort. I am a furniture designer myself, and your product makes me happy.
– Simon, January 2022
---
---
Sustainability
Cross Bar Chair is designed through TAKT's Eco System Design principles and are shipped component based as flat packs. We can pack 5 to 7 times more products in the same volume and therefore minimise CO2e emissions during transportation. Cross Chair is eco-certified and produced using wood from sustainable forests and the full supply chain is certified. It is constructed for disassembly, meaning that all components are replaceable and worn parts can be replaced. Comes with a five-year warranty.
---
---
---
---
Craftsmanship
Designed to look great from any angle, Cross Bar Chair presents enjoyable details with every view. It has clean lines and a comfortable design. Its name comes from its cross construction, which is the essence of the chair. Its sophistication radiates nuance and care.
---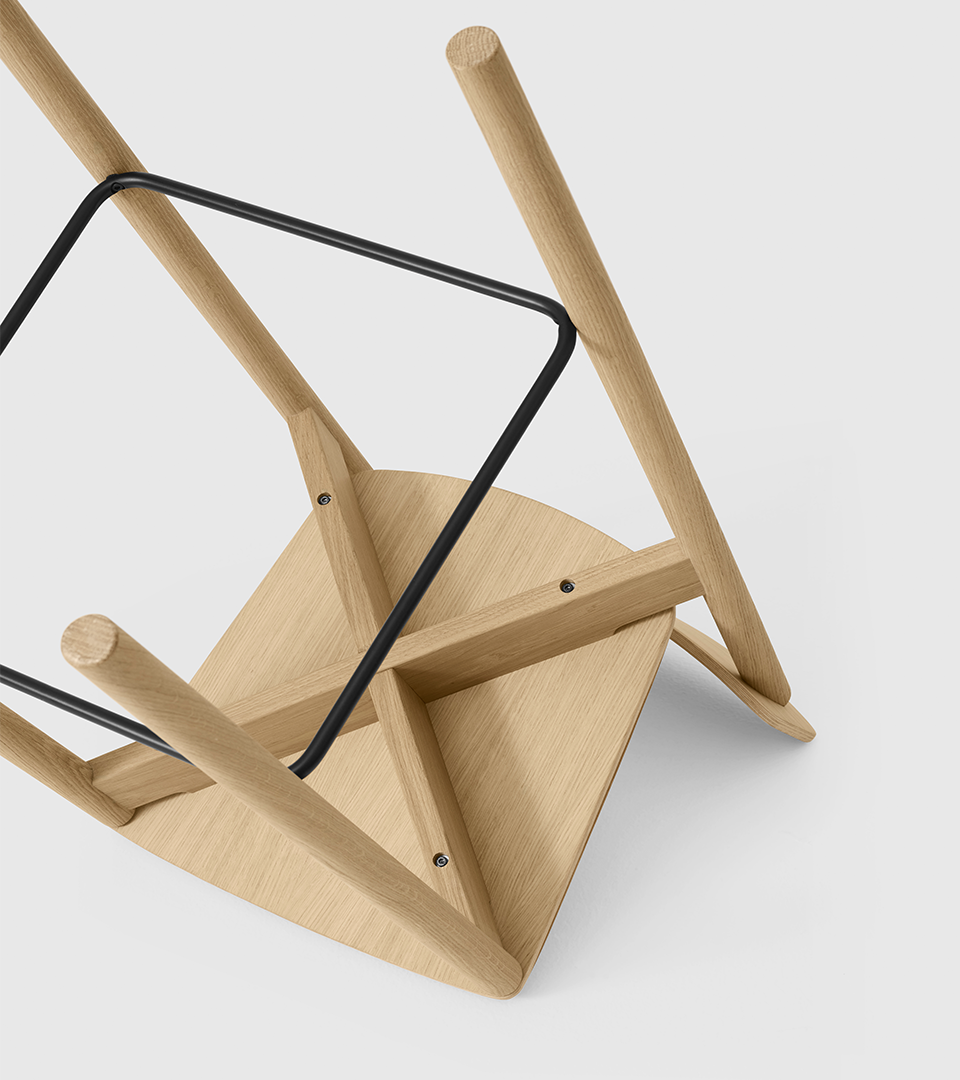 The woodwork
The Cross Chair frame is made from solid oak and moulded veneer: a durable material with a natural weight that lends authority to the design. Our products are FSC-certified. FSC-certified forests are given time to naturally regenerate, local wildlife is sustained and worker conditions are balanced. Oak has a characteristic structure which gives a beautiful texture and a familiar tangibility to the surface. The surface is treated with natural white-pigmented oil and water based lacquer. This treatment allows the wood to develop a characterful patina over time, and will also enable you to easily repair damage to the surface by applying light sandpaper and a new oil treatment – again and again. Besides our FSC-certified wood, we only work with eco-labelled wool and the best aniline leather.


---