T01 Cross Chair is designed by PearsonLloyd with a deep respect for the Danish design tradition. Its well-balanced intricacy and confident aesthetic result in a palpable presence.
---
---
Difference in the Details
Designed to look great from any angle, Cross Chair presents enjoyable details with every view. It has clean lines and a comfortable design. Its name comes from its cross construction, which is the essence of the chair. It's sophistication radiates nuance and care.
---
Balancing Act
Cross Chair has a thoughtful balance of elements that create an intricate but stable experience. It's form gives the ability to be stacked 4 at the time, as well as customised to fit any individual style.
---
The Act of Blending In
Cross Chair can also be customised with a variety of Kvadrat wool fabrics and aniline leathers, so your chairs will naturally blend in with your personally interior. All fabrics are of course ecolabelled and our leathers have received the Nordic Swan Ecolabel.
---
---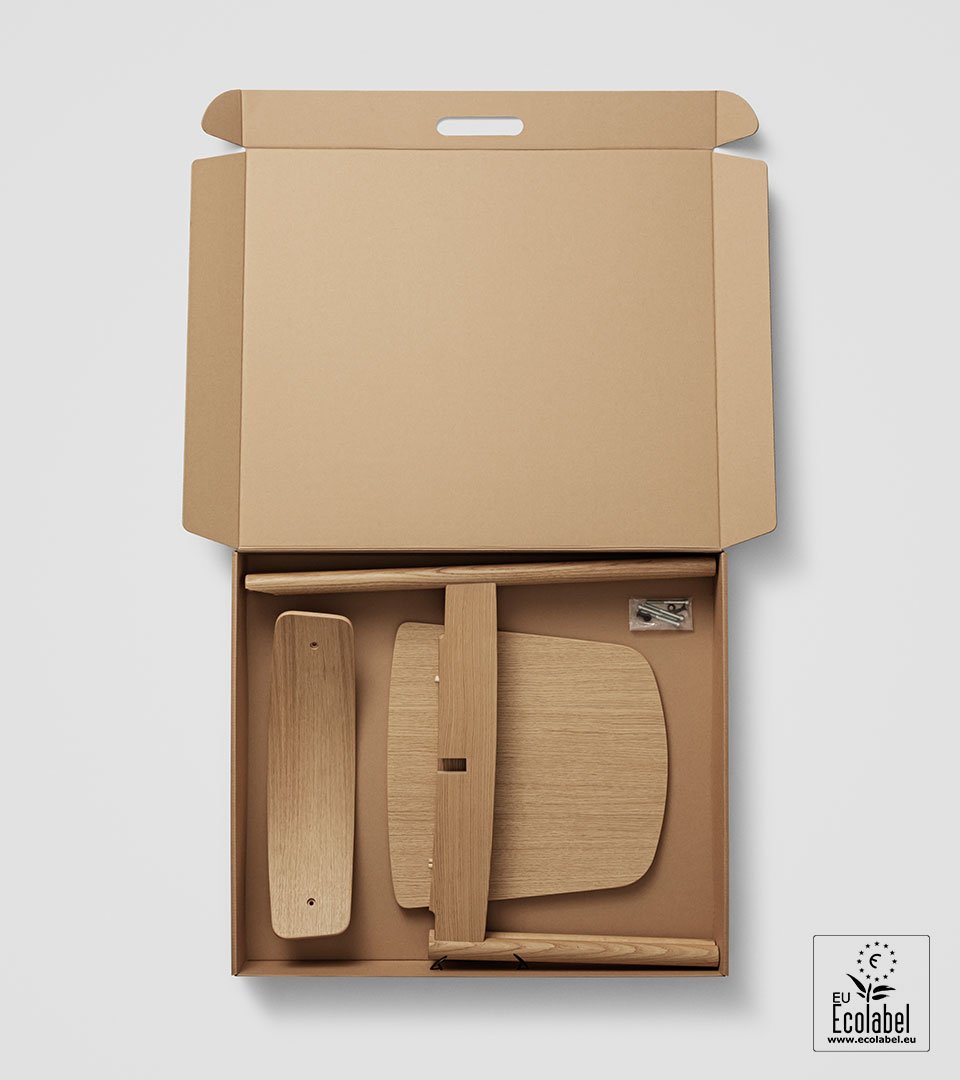 Sustainability
Cross Chair is designed through TAKT's knock-down principle – the chair is shipped as flat pack and CO2 emissions are minimised when we ship more in less space.
Cross Chair is 100% eco-certified and produced using wood from sustainable forests and the full supply chain is certified. The forests are given time to naturally regenerate, local wildlife is sustained and worker conditions are balanced. It is also constructed for disassembly, meaning that Cross Chair can be separated out into key materials for recycling and worn parts can be replaced. Cross Chair is constructed and tested for durability and has a five-year warranty.
The chair is coded with a very thin water based lacquer, that allows easy cleaning while emphasising the delicate structure of the wood.
---
The Woodwork
The Cross Chair frame is made from solid oak: a durable material with a natural weight that lends authority to the design. It has a characteristic structure which gives a beautiful texture and a familiar tangibility to the surface. We only work in FSC® certified wood, ecolabelled wool and aniline leather.
---
Transparency
We don't service an expensive network of physical retail stores. We work directly with the best furniture workshops. When we receive your order, we dispatch the product from our central warehouse in Denmark and ship it to you directly. That is how we can put more value into the product, sell it to you at a fair price and keep you informed along the way.
---
---
Pricing made clear
We continue the tradition of design for everyone by being fair and up-front with our prices.
To us, transparency is about inviting the public into our inner-workings so that you can see how we do things – that we price things fairly, so you don't pay more than needed for good quality, but also so you pay enough to fairly support our workers, source our materials in sustainable ways, and build a business that is able to sustain itself. That's why we believe in transparency from production, to transport to pricing.
---
We were immediately drawn to the ambition to combine the true spirit of Scandinavian design principles — craft, simplicity, elegance.

Luke Pearson and Tom Lloyd at PearsonLloyd
---
---
---
TAKT builds on the best from our past with the innovations of today so more people can enjoy high quality design.
---