T20 Cross Task Chair is designed by Pearson Lloyd and is the perfect complement – a versatile, ergonomic task chair ideally proportioned for compact spaces. The chair brings elegant ergonomic functionality to the home office.
SECURE PAYMENT
100% secured payment flow
---
---
Introducing Cross Task Chair
With working from home now an ongoing reality for many of us at least some of the time, the aesthetic gulf between office furniture and home interiors has become increasingly apparent. Cross Task Chair is TAKT's response to this shift.
---
---
---
Harmony in steel and wood
Special attention has been given to the balance of materials in Cross Task Chair's design. The slender steel tubes lend a light, modern and airy appearance to the chair, whereas the wooden seat and back provide warm, tactile comfort at the contact points. The result is a chair that is easy to move around the home, providing a comfortable, familiar seat wherever you need it. 
---
---
Make it yours
In addition to the standard variant with an oiled oak seat and backrest, Cross Task Chair is available with a range of upholstery fabrics and colour finishes, allowing it to complement any home interior style. The contemporary colours have been curated from a palette that TAKT developed in collaboration with visual artist Malene Bach, inspired by the historic colours of the Scandinavian cityscape.
The backrest and seat are both available in black lacquer variants, and the seat can also be upholstered with black or cognac Dunes leather, or the Kvadrat woollen fabrics Canvas 996 in forest green or Hallingdal 130 in grey. The forest green seat can also be paired with a chrome green backrest, the grey with a lichen green.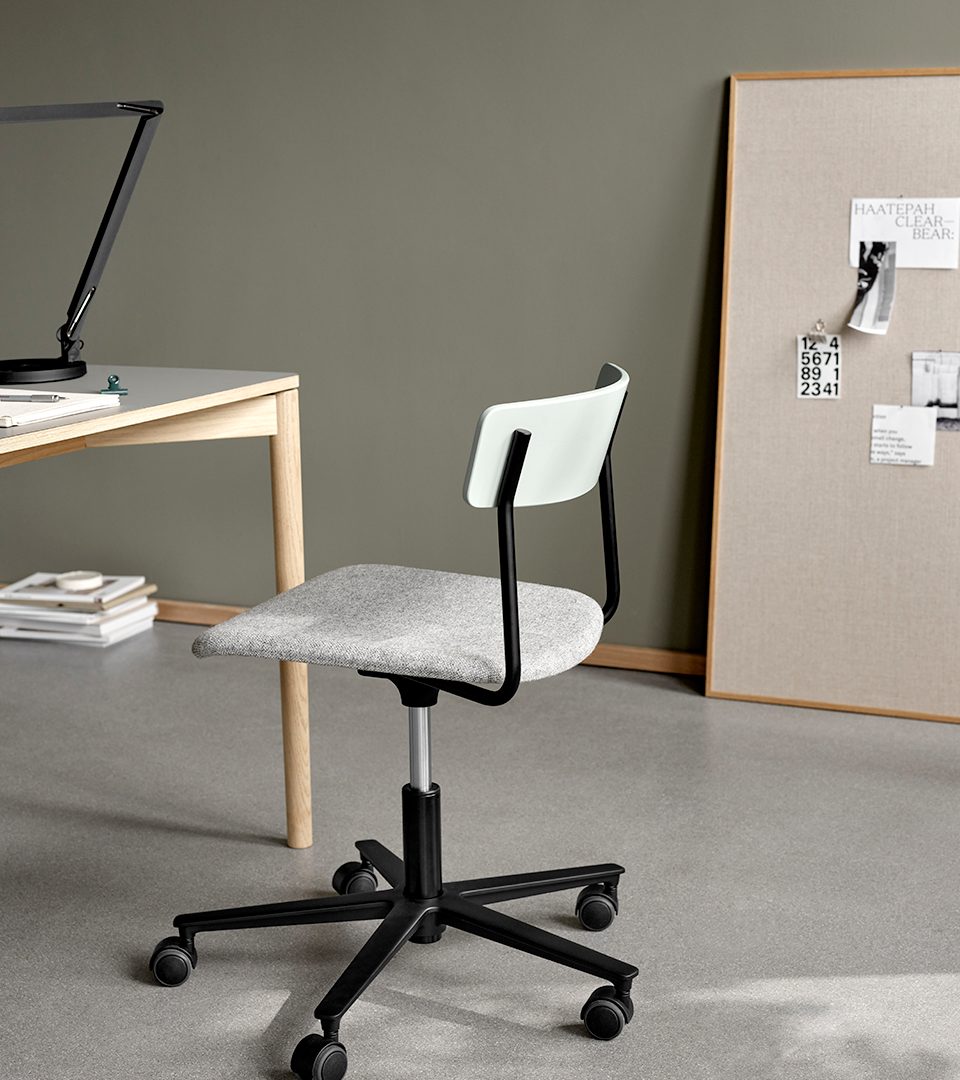 ---
Minimal form, maximum function
Pearson Lloyd's design takes the lightweight look and elegantly minimal material expression of Cross Chair Tube – with its slim wooden back fitted to parallel tubes of recyclable high-pressure steel – and incorporates the adjustability necessary for a task chair into the wheeled base without compromising its clean and simple appearance.
---
Easy to operate
With minimal knobs and levers, the chair has a swivel base and pneumatic lift with a height-adjustable lever. It has a simple, intuitive range of dynamic movement, allowing the user to lean backwards and forwards, relieving tension and creating postural change. A gently curved lip in the front edge of the seat reduces pressure on the backside of the leg.
---
---
---
---
Make sure you do not invalidate your return right when receiving your Cross Task Chair
As with all TAKT furniture, you can freely return your Cross Task Chair within 30 days.
However, for Cross Task Chair, you should be aware that once you have assembled the gas spring with the star base and you sit on the chair, it is almost impossible to disassemble these two parts afterwards. The gas spring and the star base connect with a smart conical interface that locks it into place without the need for additional screws.
This means that for practical reasons you invalidate the free return right once you have assembled these two pieces, because the chair will no longer fit into the slim packaging for return. You are still able to evaluate the chair's fit and finish at home, but the final assembly of the gas spring with the star base you should wait with until you have finally decided to keep the chair.
---
---
Sustainability
Cross Task Chair is designed through TAKT's Eco System Design principles and are shipped component based as flat packs. We can pack three times more products in the same volume and therefore minimise CO2 emissions during transportation. Cross Task Chair is eco-certified and produced using wood from sustainable forests and other controlled material, just as the full supply chain is certified. It is constructed for disassembly, meaning that all components are replaceable and worn parts can be replaced. Comes with a five-year warranty.


---
---
Transparency
We don't service an expensive network of physical retail stores or distribution warehouses. We work directly with the best furniture workshops. When we receive your order, we dispatch the product from our central warehouse in Denmark and ship it to you directly. That is how we can put more value into the product, sell it to you at a fair price and keep you informed along the way.
---
Price Transparency
---
Try Cross Task Chair in your home
We believe that the best place to experience furniture is in the surroundings where it will be used. That's why we offer free shipping + free return.