Ergonomic details and comfort
Turn Chair's sunken seat and comforting backrest create a surprisingly homely plywood chair that gives your body a hug. Despite it's small proposition, Turn Chair is mastering a significant ergonomic details and comfort, that turns a wooden chair into a cosy place to feel at home.
SECURE PAYMENT
100% secured payment flow
---
---
Make it yours
We have curated a selection of colours that all fit well together. The chair comes in five colour variations, Natural beech, Japan red, Black blue, Copper green and Sun yellow.
Turn Chair can also be customised with a variety of Kvadrat wool fabrics, so your chairs will naturally blend in with your personal interior. All fabrics are, of course, eco-labeled and can be replaced over time if you desire a different color or if a stain cannot be removed.
---
Always room for another friend around the table
Turn Chair is stackable, allowing users to store three chairs in a compact and secure rotating column ready to be deployed for a raucous dinner party or, perhaps, a first birthday party. The chair's accommodating design encourages our customers to squeeze another friend around the table.
---
The informal and unpretentious look of Turn Chair masks many technical details. We refined the design of the components to make efficient use of the most up-to-date production techniques.

Michael Lysemose
---
---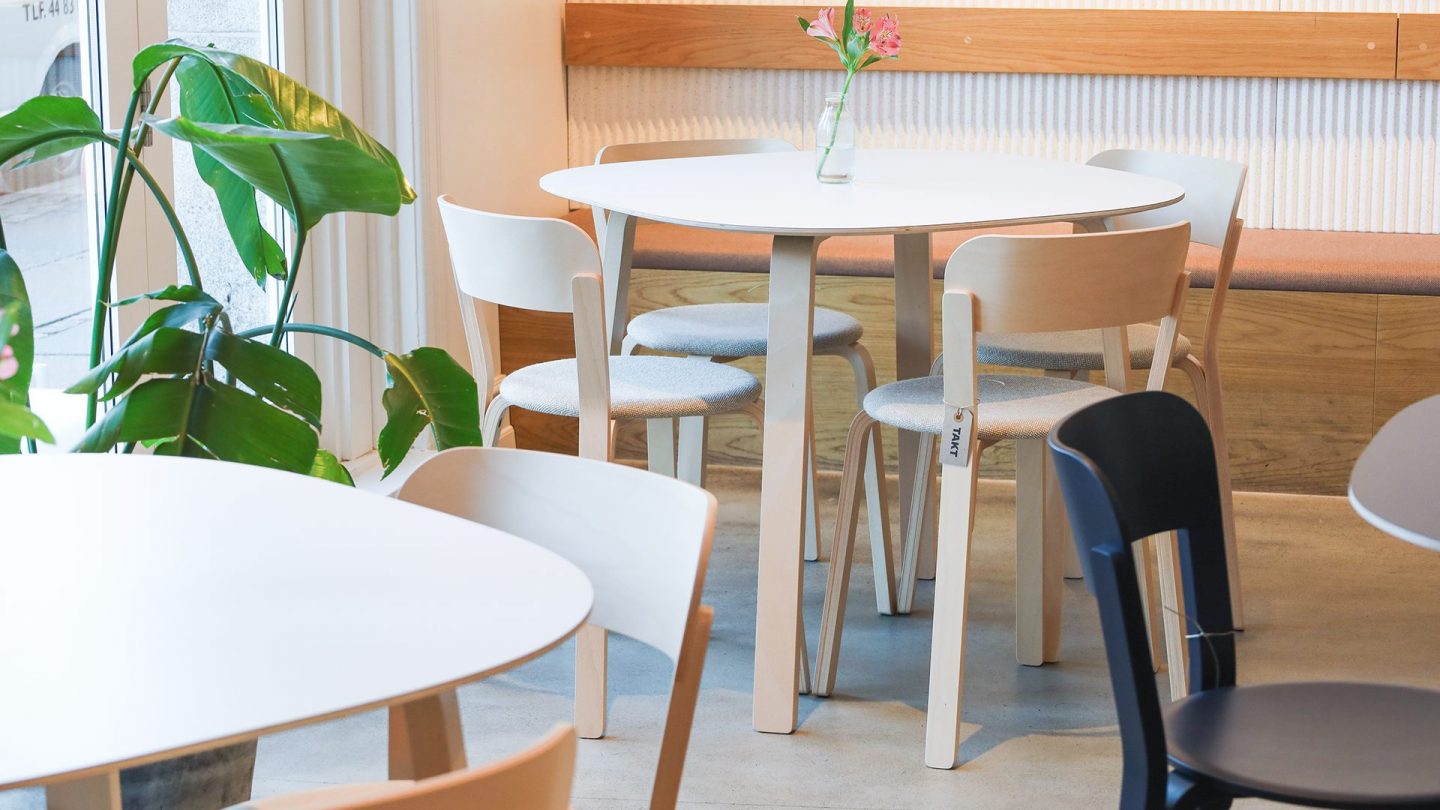 ---
---
What our customers say
Personal service
We went to the showroom on Sølvgade and met your friendly staff.
– Fredrik, May 2022
Sustainability in focus
The story behind, and sustainable production, and the feeling of no risk with the free return information.
– Gloria, April 2022
Good experience
The design is original, of good quality and sustainable, and the delivery was very quick. The experience was very good from end to end.
– Anonymous, February 2022
No compromises
I am extremely happy about both design and comfort. I am a furniture designer myself, and your product makes me happy.
– Simon, January 2022
---
Climate footprint

---
Sustainability
Turn Chair is designed through TAKT's Eco System Design principles and are shipped component based as flat packs. We can pack 5 to 7 times more products in the same volume and therefore minimise CO2e emissions during transportation. Turn Chair is eco-certified and produced using wood from sustainable forests and the full supply chain is certified. It is constructed for disassembly, meaning that all components are replaceable and worn parts can be replaced. Comes with a five-year warranty.

---
---
---